Yocum Hall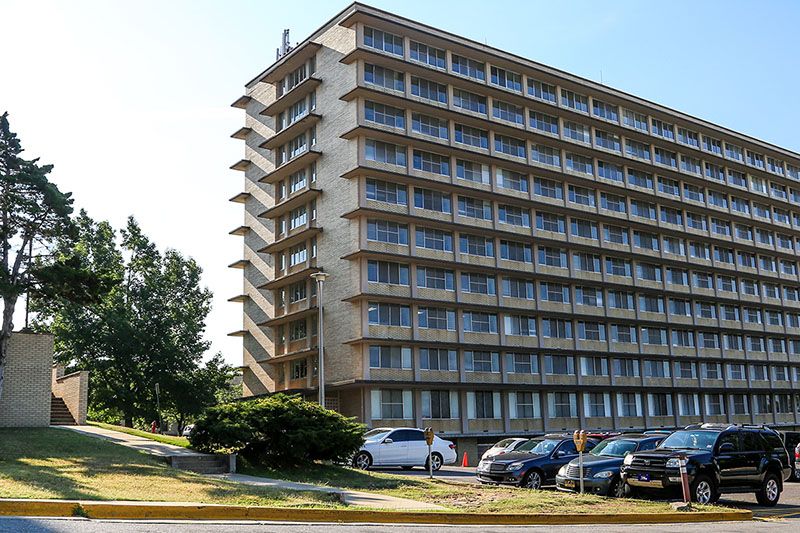 ---
Yocum Hall
Yocum Hall is a ten-story, co-ed residence hall with a large activity room on the ground floor and a TV lounge on the first floor.
Yocum is located directly across the street from the Walton College of Business and Kimpel Hall.
Hall visiting hours are 8 a.m. to 2 a.m., Sunday through Thursday, and 24 hours a day during Friday and Saturday.
This hall is open to students even during winter and spring breaks.
Front Desk
Physical Address
155 N. McIlroy Ave.
Fayetteville, AR 72701-4032
Mailing Addresses
155 N. McIlroy Ave.
Fayetteville, AR.
72701-4032
Social Media
Standard Features
Kitchen with cooking equipment (available from the front desk)
Fire alarm and sprinkler system
Common spaces available for studying or socializing
Hall Features
Capacity of 530 students
Co-ed building
Student population: All students
Elevator
Living/Learning Community
Named for Judge Henry S. Yocum of El Dorado, Yocum Hall opened in 1963. Judge Yocum served as a member of the Board of Trustees
Typical Room Layout
Download this room layout
Pipe Chase Rooms
Several rooms were modified to include space for an air-flow chase. Referred to as "pipe chase rooms," these rooms are provided with a wall-mounted flat-screen TV, lofts, movable bureaus and desks.
Pipe chase rooms are found on every floor, except the first floor, in rooms that end with 05, 10, 17 and 28.
Common Spaces
Resident Rooms