Hotz Honors Hall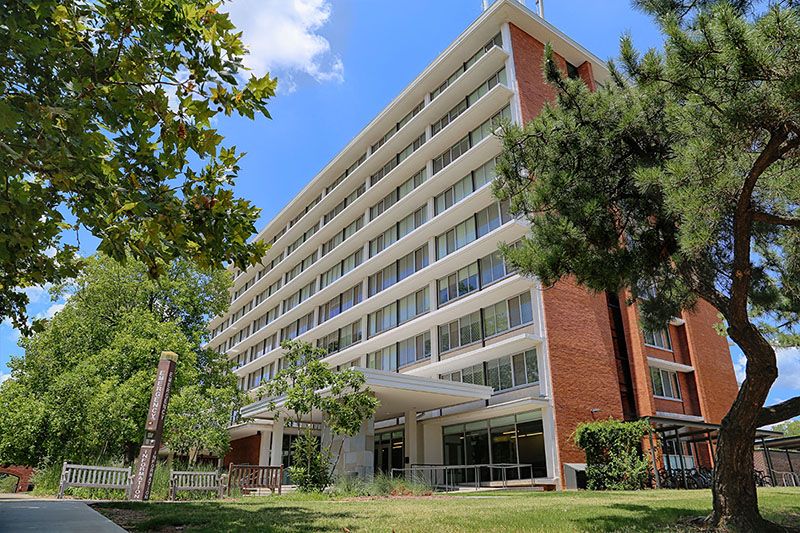 Hotz Honors Hall
Residency Requirements
Hotz Hall provides honors quarters for first-year Honors College students .
Bonded roommates who are not admitted to the Honors College must have a 3.75 cumulative GPA to qualify for Hotz Hall.
To be eligible for priority honors housing selection, you will need to apply to the Honors College by November 15 of your senior year.
You will also need to complete a housing contract.
Hall visiting hours are 8 a.m. to 2 a.m., Sunday through Thursday, and 24 hours a day during Friday and Saturday.
Front Desk
Physical Location
1175 W. Cleveland St.
Fayetteville, AR 72701
Mailing Address
1175 W. Cleveland St.
Fayetteville, AR.
72701
Social Media
Standard Features
Kitchen with cooking equipment (available from the front desk)
Fire alarm and sprinkler system
Common spaces available for studying or socializing
Hall Features
Capacity of 416 students
Co-ed building
Student population: Freshmen
Academic Honors Area
Elevator
Exercise Equipment
Movable Furniture
Neighborhood Computer Lab
Available for Freshmen
Piano
Wi-Fi available
Typical Double-Room Dimensions and Furniture
| Item | Length | Width | Height |
| --- | --- | --- | --- |
| Typical Room Dimensions | 13 feet 6 inches | 11 feet 6 inches | |
| Twin loftable beds | 80 inches | 36 inches | |
| Desks | 32 inches | 24 inches | 30 inches |
| Side tables | 17 inches | 24 inches | 30 inches |
| Desk chairs | 23 inches | 21 inches | 33 inches |
| Three Drawer Dresser | 29 inches | 24 inches | 30 inches |
| Wardrobes | 36 inches | 24 inches | 72 inches |
| Window with blinds | | 126 inches | 57 inches |
| Ledge | 10 feet 6 inches | 16 inches | 37 inches |
Unless noted, measurements are length x width x height
Hotz Honors Staff
Amaury Ndagijimana
(HOUS)-Housing
Resident Assistant
Jackson Pittman
(HOUS)-Housing
RIC Volunteer Coordinator
Neptune Zaragoza
(HOUS)-Housing
Resident Assistant