Hotz Honors Hall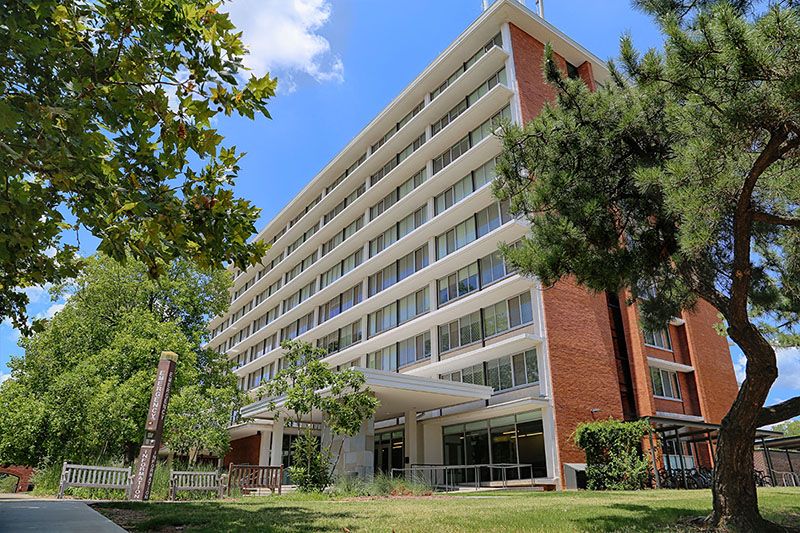 About Hotz Honors Hall

Opened in 1964 as a women's dormitory, Hotz Hall was named in honor of Henry G. Hotz, who served on the university faculty for 24 years, including 11 as dean of the College of Education, and his wife Stella Palmer Hotz, a home economics professor who was the first women to obtain the rank of full professor at the University of Arkansas.
After being taken off-line as a residence hall and used as an office building for several years, Hotz Hall was extensively renovated beginning in the spring of 2012. With its rededication for the Fall 2013 semester as a residence hall, traditional two-person rooms will foster community among students, and the main floor will provide a large space where residents can gather to play ping-pong and pool, watch movies, and read near the fireplace. A computer lounge, music room, conference rooms and small theater will be available for student use as well. Each floor will offer study areas, alcoves for secluded TV viewing and video gaming, and spa-style bathrooms with multiple shower facilities that have been reconfigured for greater privacy.
Hotz Hall provides honors quarters for first-year Honors College students . Students living in Hotz Hall must have and maintain a 3.50 cumulative GPA. Bonded roommates who are not admitted to the Honors College must have a 3.50 cumulative GPA to qualify for Hotz Hall.
Hall visiting hours are 8 a.m. to 2 a.m., Sunday through Thursday, and 24 hours a day during Friday and Saturday.
Rates by Semester
Double Room $3,270
Single Room $3,891
Front Desk
Physical Address
1175 W. Cleveland St.
Fayetteville, AR 72701
Mailing Addresses
645 N. Hall Ave.
Fayetteville, AR.
72701-3108
Maple Hill South handles mail and packages for Hotz Honors Hall.
Standard Features
Kitchen with cooking equipment (available from the front desk)
Fire alarm and sprinkler system
Common spaces available for studying or socializing
Hall Features
Capacity of 416 students
Co-ed building
Student population: Freshmen
Academic Honors Area
Elevator
Exercise Equipment
Movable Furniture
Neighborhood Computer Lab
Available for Freshmen
Piano
Wi-Fi available
Typical Room Dimensions
Bedrooms are approximately 13'6" deep and 11'6" wide. Unless noted, measurements are L x W x H.
2 Twin beds - Beds have wooden loftable frames and can be adjusted for height without any other equipment
Mattress Long Twin: 36" wide x 80" long
2 Desks (32" W x 24" D x 30" H)
2Side tables with one drawer (17" W x 24" D x 30" H)
2Desk chairs (23" x 21" x 33")
2Three-drawer dressers (29" W x 24" D x 30" H)
2Wardrobes (36" W x 24" D x 72" H)
Window with blinds (126" W x 57" H)
Window Ledge (10"6" x 16" x 37")
Each bedroom has Ethernet and wireless access, cable, and a networked smoke detector