Pomfret Hall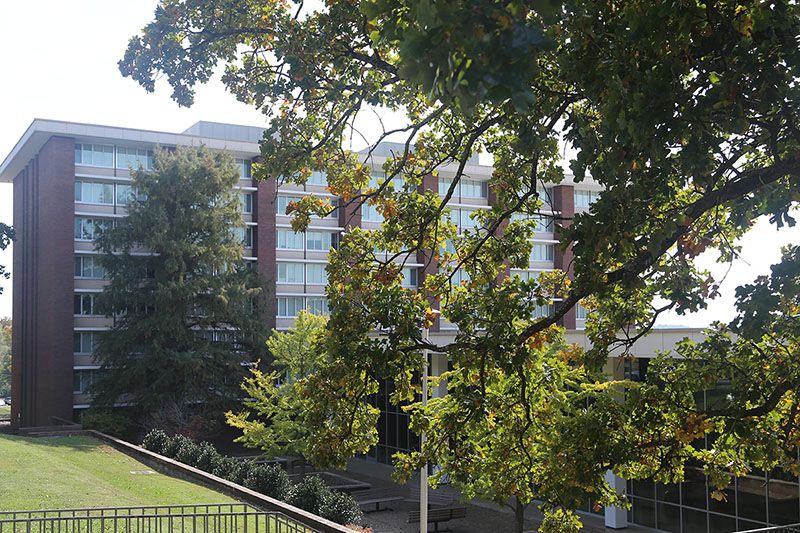 Updates
About Pomfret Hall
Home to approximately 750 students, Pomfret Hall is the single largest residence hall on the University of Arkansas campus. It features its own dining hall inside the building, two classrooms, meeting rooms, a music room and a large lounge area.
Pomfret Hall consist of three basic parts: the eight-story B-wing and on the north side, the three-story C- and four-story D-wing on the north side of the building. Each wing is co-ed by floor. The wings are connected by a large ground-level Great Room. Pomfret hall dining overlooks the Great Room.
2019-2020 Rates by Semester
Front Desk
Physical Address
31 S. Stadium Dr.
Fayetteville, AR 72701-4037
Mailing Addresses
31 S. Stadium Dr.
Fayetteville, AR.
72701-4037
Standard Features
Kitchen with cooking equipment (available from the front desk)
Fire alarm and sprinkler system
Common spaces available for studying or socializing
Hall Features
Capacity of 803 students
Co-ed building for all students
Elevator (B-Wing only)
Living/Learning Community
Piano
B-wing Capacity: 406
C- and D-wing Capacity: 397
In-hall dining
Opened in 1967.
Named for James Edward Pomfret who served as the vice president for business from 1958-1967.
Typical Room Layout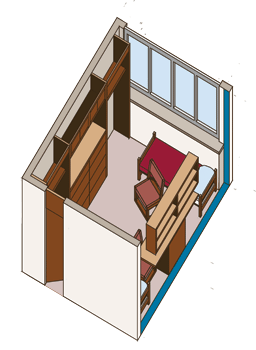 Typical Double Room Dimensions
2 Twin beds

Door-side bed frame (38" wide x 81" long)
Door-side mattress (36" wide x 75" long)

Window-side bed frame (38" wide x 86" long)
Window-side mattress (36" wide x 80" long)

2 Desks (36" wide x 34" deep x 30" high)
2 Desk chairs
Three-drawer chest (30" wide x 24" deep x 30" high)
Wardrobes (36" wide x 24" deep x 72" high)
Window with blinds (9'6" W x 57" H)
Ledge (9'9" x 12" x 37")
Unless noted, measurements are L x W x H
Bedrooms are approximately 13'6" deep x 9'9" wide
Accent Color
The accent color in C-wing is Benjamin Moore 2128-50, November skies (blue hue)
The accent color in D-wing is Benjamin Moore 2158-30, delightful golden (tan hue)
Accent colors are used on a single wall in the room.
Students are not allowed to paint their rooms. This accent color is provided only to assist with decorating.