Gibson Hall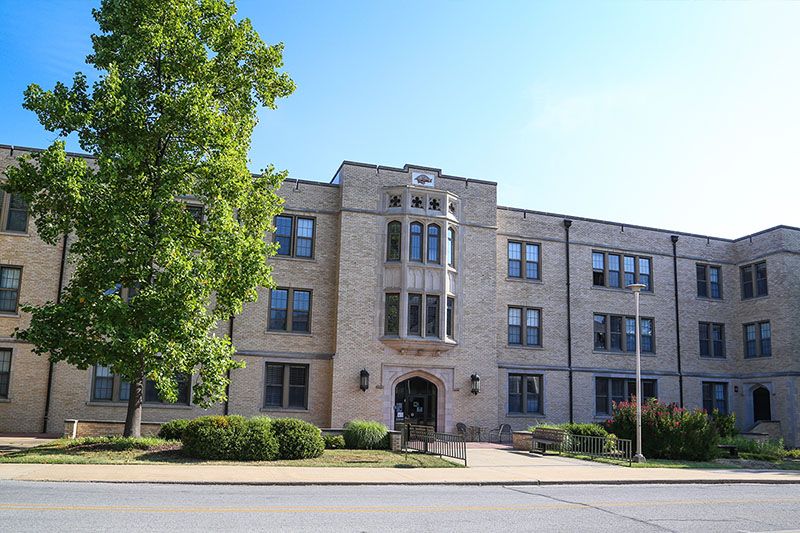 About Gibson Hall
Gibson Hall began as Razorback Hall. It was later dedicated in the memory of James Gibson, a past director for University Housing. Gibson Hall's original hardwood flooring was restored during the summer of 2015.
There is a large T.V. lounge and kitchenette in the second floor lounge and quiet study on the third floor. The hall is located near the center of campus next to the Greek Theater.
Gibson Hall is open only to female University of Arkansas students.
Effective Sunday, Jan. 3, University Housing will limit guests/visitors in the residence halls.
Each resident may have only one guest in the residence hall at a time. Overnight guests will not be permitted, and no guests should be in rooms between the hours of 2-8 a.m.
The visitation and guest policies will be revisited by January 29, 2021 to determine any adjustments needed.
Front Desk
Location
1050 W. Dickson St.
Fayetteville, AR 72701-4010
Mail
301 N. Garland St.
Fayetteville, AR.
72701-4010
Gregson Hall handles packages for Gibson Hall. Mail is received at Gibson Hall.
Standard Features
Kitchen with cooking equipment (available from the front desk)
Fire alarm and sprinkler system
Common spaces available for studying or socializing
Hall Features
Room for 98 students
Female-only resident hall
Sink in room
Piano
Ceiling fans
Movable furniture
Room Layout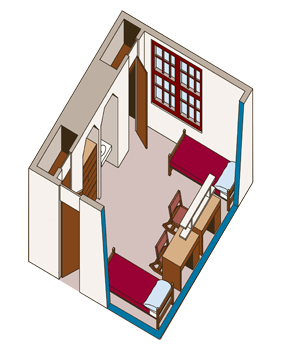 Typical Double-Room Dimensions
Bedrooms are approximately 16' 2" deep and 11' 3" wide
2 Twin beds - Beds have wooden loftable frames and can be adjusted for height without any other equipment
Mattress Long Twin: 36" wide x 80" long
2 Desks (48" x 24" x 30")
2 Desk chairs (23" x 21" x 33")
Lighted Mirrors (32" W x 40" H)
2 Bookshelves (71" L x 9" W)
Chest of drawers (34" x 29" x 65")
2 Closets (53" x 29" x 80")
Window with blinds*** (82.5" W x 78" H)

Corner rooms have two windows
Unless noted, measurements are length x width x height