Walton Hall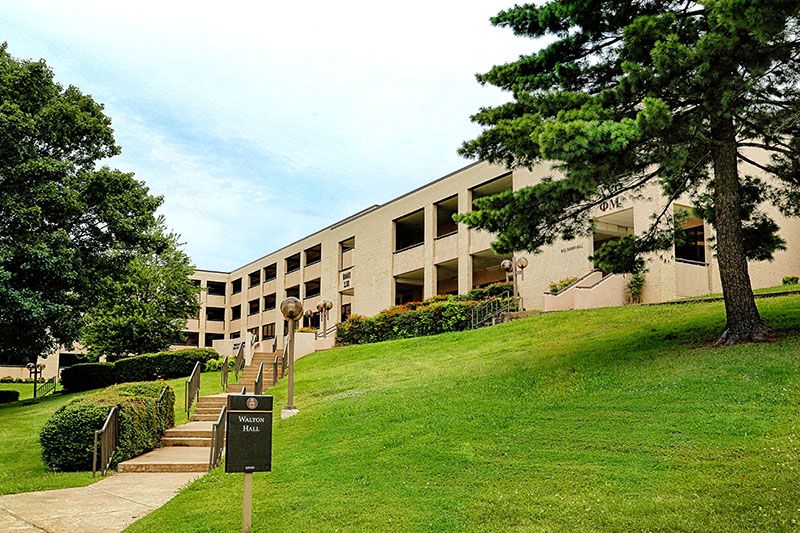 About Walton Hall
Walton Hall is open only to upperclassman.
Most Walton Hall residents live in suite-style single rooms with a bathroom shared with one other residence in a "Jack and Jill" style.
Rooms on the east side of the first floor are configured as traditional resident hall rooms.
Walton Hall is open only to upperclassmen.
Hall visiting hours are 8 a.m. to 2 a.m., Sunday through Thursday, and 24 hours a day during Friday and Saturday.
2019-2020 Rates by Semester
Front Desk
Physical Address
324 N. Stadium Dr.
Fayetteville, AR 72701-4014
Mailing Addresses
301 N. Garland St.
Fayetteville, AR.
72701-4010
Gregson Hall handles packages for Walton Hall. Mail is received at Walton Hall.
Standard Features
Kitchen with cooking equipment (available from the front desk)
Fire alarm and sprinkler system
Common spaces available for studying or socializing
Hall Features
Capacity of 152 students
Co-ed building
Upperclassmen-only resident hall
Elevator
Movable Furniture
Room Carpeting
Sink in Room/Suite
Bathroom in Suite/Apartment
Walton North
Typical Room Layout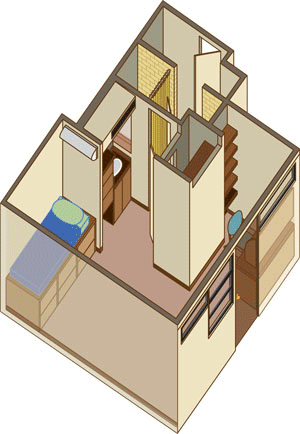 Dimensions
Built in bed with EXTRA LONG TWIN MATTRESSES (84" x 36")
Built-in desk (60" x 24" x 32")
Built-in bookshelf above desk
Wood frame desk chair
Built-in closet (43" wide)
Two dressers - 6 drawers built-in under mattress (87 1/2" x 41" x 32")
and 3 drawers built-in next to sink (27" wide and 24" deep)
Multi-purpose cube (24" x 18" x 19")
Window with blinds (27" W x 60" H)
Top windows 23 1/2" high
Carpeted flooring
In-room temperature control
Sink/vanity with mirror
Alcove with shelves behind desk
* Unless noted, measurements are L x W x H
Bedrooms are approximately 15'3" deep and 15'4" wide
Walton South
Typical Room Layout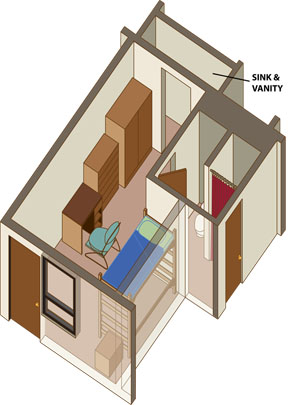 Dimensions
All furniture is movable
Loftable wood-frame bed with LONG TWIN MATTRESSES (80" x 36")
Desk (44" x 20" x 30")
Stackable steel frame desk chair
Bureau/Wardrobe with full-length mirror (48" x 24" x 60")
5-drawer dresser (30" x 18" x 43")
Multi-purpose cube (24" x 18" x 19")
Window with blinds (27" W x 60" H)
Carpet tile flooring
In-room temperature control
Sink/vanity with mirror
* Unless noted, measurements are L x W x H
Rooms on the east side of the first floor are confirgured as traditional residence hall rooms. Six rooms share a common restroom.
Suite rooms are approximately 18' deep and 10'4" wide
Each bedroom has ethernet access, cable and a networked smoke detector