Founders Hall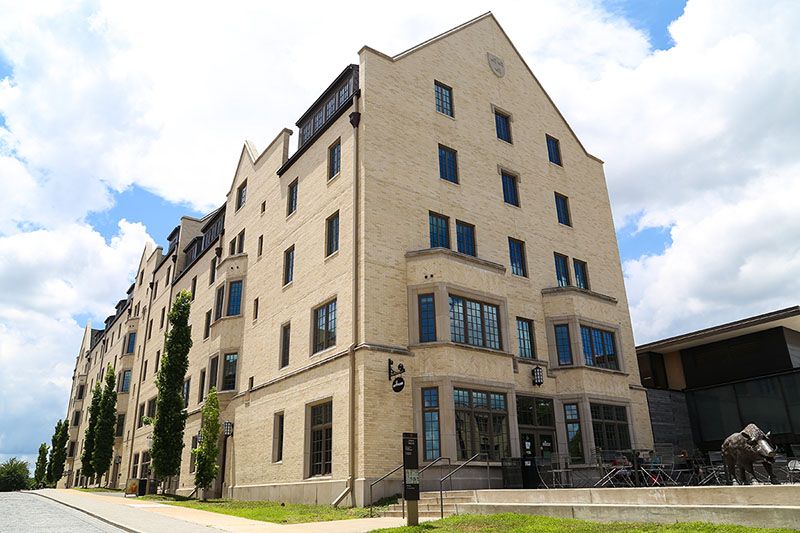 About Founders Hall
Founders Hall opened in Fall 2013. It is located in the central part of campus.
Hall visiting hours are 8 a.m. to 2 a.m., Sunday through Thursday, and 24 hours a day during Friday and Saturday.
Front Desk
Location
255 N. McIlroy Ave.
Fayetteville, AR 72701-4023
Mail
195 N. McIlroy Ave.
Fayetteville, AR.
72701-4032
Humphreys Hall handles mail and packages for Founders Hall.
Standard Features
Kitchen with cooking equipment (available from the front desk)
Fire alarm and sprinkler system
Common spaces available for studying or socializing
Hall Features
Built in 2013
Centrally located on campus
Adjacent to Brough Commons dining hall
Capacity of 214 students
Co-ed building
Student population: All students
Elevator
Living/Learning Community
Movable Furniture
Available for Freshmen
Wi-Fi available
Sink in Room/Suite
Students wanting to bring under-counter/mini refrigerators into their rooms at Founders Hall: we designed every room with ADA compatible vanities. This will require a refrigerator no taller than 29" if you want to place it under the vanity on the floor.
Typical Room Layout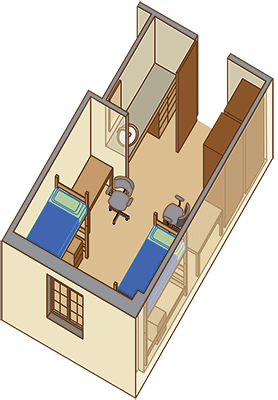 Typical Double-Room Dimensions
Room dimensions: 12' W x 20' L
Two long twin medium loft beds. Mattress size: 36" W x 80" L
Two wardrobes: 36" W x 24" D x 72" H
Two three-drawer chest dressers: 30" W x 24" D x30" H
Two desks with chairs
Gable Rooms
Some rooms in Founders are known as "gable rooms" where the roof angles toward the wall. Please see this typical gable room layout .