Gregson Hall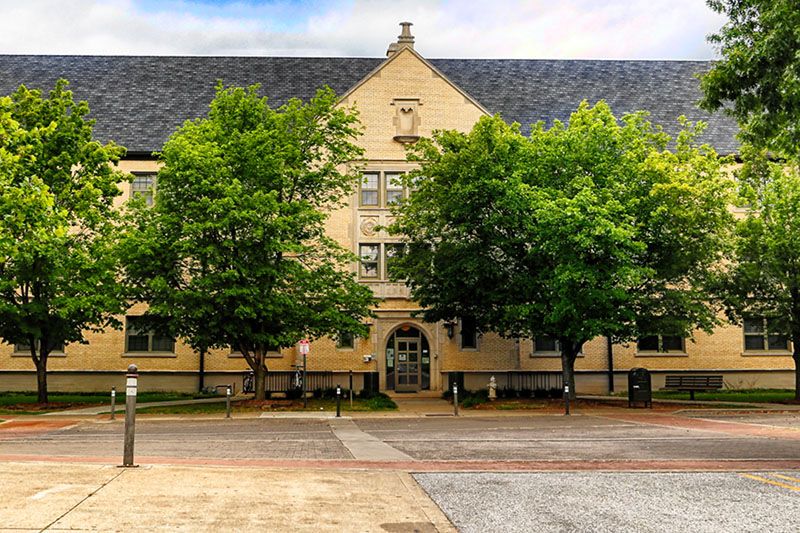 About Gregson Hall
Gregson Hall, also known as Gregson Lodge, opened in 1948 and was named for William S. "Pop" Gregson. "Pop" had been associated with the university since 1918 when he visited the campus while working for the YMCA. He later became the Director of Religious Activities and served for a brief period as the acting Dean of Men for the University of Arkansas. He also served as the manager of the Student Union when it was housed in Memorial Hall. Gregson Hall is a co-ed upper division hall.
All rooms are carpeted. The hall has a game room, a television lounge and a private study lounge and houses the University of Arkansas Enhanced Learning Center.
Gregson Hall is open only to upperclassmen.
Effective Sunday, Jan. 3, University Housing will limit guests/visitors in the residence halls.
Each resident may have only one guest in the residence hall at a time. Overnight guests will not be permitted, and no guests should be in rooms between the hours of 2-8 a.m.
The visitation and guest policies will be revisited by January 29, 2021 to determine any adjustments needed.
This hall is open to students even during winter and spring breaks.
Front Desk
Location
301 N. Garland St.
Fayetteville, AR 72701-4031
Mail
301 N. Garland St.
Fayetteville, AR.
72701-4010
Standard Features
Kitchen with cooking equipment (available from the front desk)
Fire alarm and sprinkler system
Common spaces available for studying or socializing
Hall Features
Capacity of 203 students
Co-ed building
Student population: Upperclassmen
Academic Year Hall (open during breaks)
Movable Furniture
Not Available for Freshmen
Wi-Fi available
Hall Carpeting
Hardwood floor rooms
Typical Room Layout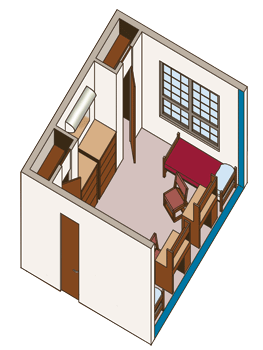 Typical Double-Room Dimensions
2 Twin beds** (78" x 36" x 25")
2 Desks (42" x 24" x 30")
2 Desk chairs (23" x 21" x 33")
2 Bookshelves (42" x 10" x 28")
2 Closets (44" x 20" x 74")
Lighted Mirror (72" W x 30" H)
Window with blinds (81" W x 60" H)
Unless noted, measurements are L x W x H
Beds have wood frames and require a maintenance request to bunk or unbunk
Bedrooms are approximately 16'2" deep and 13'2" wide