Futrall Hall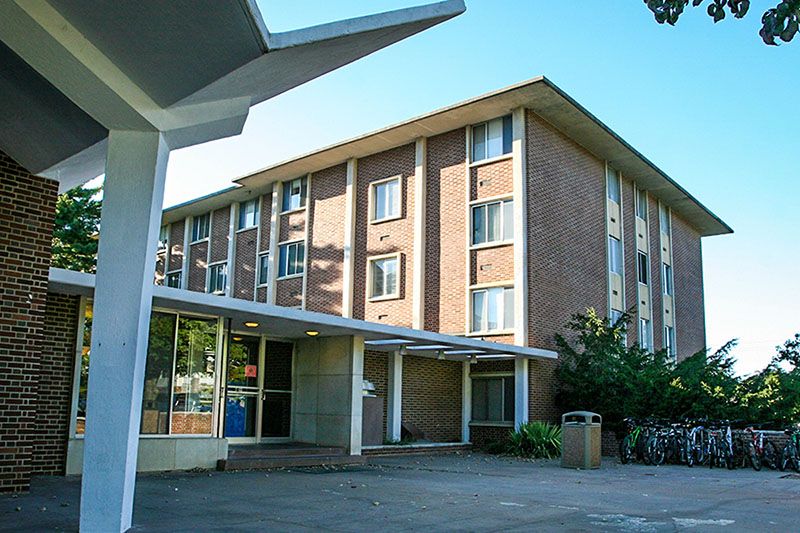 About Futrall Hall
Named for Mrs. Annie D. Futrall, the hall opened in 1963. Mrs. Futrall was the wife of former University President Dr. John C. Futrall. Mrs. Futrall was very visible to the campus and its visitors as a hostess at the University Functions for 26 years.
Futrall Hall is located on the north side of campus next to Holcombe Hall and receives desk and mail services through the Garland Commons desk at the Northwest Quad.
Futrall Hall is open only to female University of Arkansas students.
Effective Sunday, Jan. 3, University Housing will limit guests/visitors in the residence halls.
Each resident may have only one guest in the residence hall at a time. Overnight guests will not be permitted, and no guests should be in rooms between the hours of 2-8 a.m.
The visitation and guest policies will be revisited by January 29, 2021 to determine any adjustments needed.
Front Desk
Location
525 N. Lindell Ave.
Fayetteville, AR 72701
Mail
1106 W. Maple St.
Fayetteville, AR.
72701-3108
Mail pick-up is from 8 a.m. to noon and 12:30-4 p.m.
Standard Features
Kitchen with cooking equipment (available from the front desk)
Fire alarm and sprinkler system
Common spaces available for studying or socializing
Hall Features
Capacity of 193 students
Female only
Academic Honors Area
Living/Learning Community
Movable Furniture
Piano
Typical Room Layout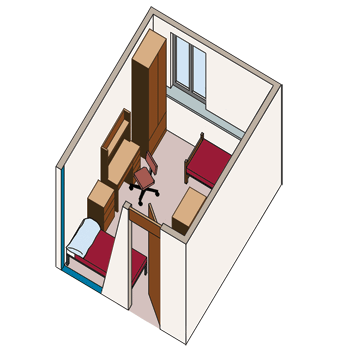 Typical Double-Room Dimensions
Individual Rooms may vary. Bedrooms are approximately 13 feet 7 inches deep and 11 feet 7 inches wide
All measurements are length by width by height unless otherwise indicated
Loftable bed and mattress: Long twin - 36" width x 80" length (About 7.5" thick)
2 Single Desk: 48 x 24 x 30
2 Hutch/Bookshelves: 48 x 10 x 23
2 Desk Chairs: 23 x 21 x 33
2 Wardrobes: 25 x 24 x 81
2 Chests of Drawers: 16 x 18 x 50
2 Corkboards under bookshelves (Window with blinds): varies x 45 x 51
Ledge: 139 x 12 x 37