Maple Hill East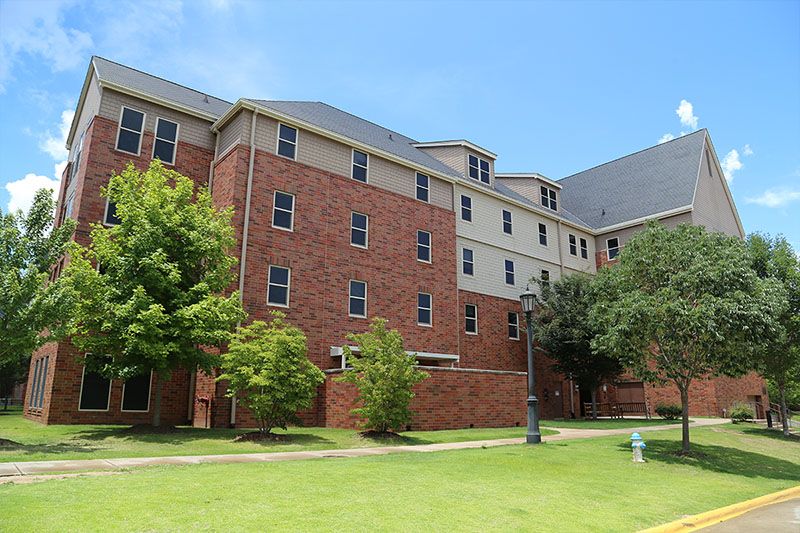 About Maple Hill East
Maple Hill East is a multi-use suite-style facility housing approximately 345 students and staff. It consists of a residence hall with staff apartments, classrooms, conference rooms, quiet study rooms and a large fireplace lounge. Students may live in double rooms in one and two bedroom suites, with cable TV and individual ethernet connections in each room.
Maple Hill East is located beside the new "The Hill" dining option and store.
Hall visiting hours are 8 a.m. to 2 a.m., Sunday through Thursday, and 24 hours a day during Friday and Saturday.
Front Desk
Physical Address
1261 W. Cleveland St.
Fayetteville, AR 72701-1785
Mailing Addresses
1263 W. Cleveland St.
Fayetteville, AR.
72701-1785
Standard Features
Kitchen with cooking equipment (available from the front desk)
Fire alarm and sprinkler system
Common spaces available for studying or socializing
Hall Features
Built in 2007
Capacity of 346 students
Co-ed building
Student population: All students
Academic Honors Area
Elevator
Movable Furniture
Available for Freshmen
Bathroom in Suite/Apartment
Typical Room Layout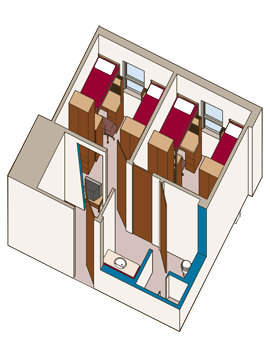 Double-Room Dimensions

Bedrooms are approximately 13'7" deep and 11'7" wide
Unless noted, measurements are L x W x H
2 Twin loftable beds* (81" x 38" x 72")
2 Single desks (48" x 24" x 30")
2 Desk chairs (23" x 21" x 33")
2 Bookshelves (48" x 10" x 23")
2 Corkboards under bookshelves
2 Chests of drawers (16" x 18" x 30")
2 Wardrobes (35" x 24" x 81")
Window with blinds (38 1/2" W x 62" H)
Each bedroom has ethernet access, cable and a networked smoke detector.

Each suite has a sitting room/foyer, vanity with sink and lighted mirror, shower and toilet.

*Beds are on wooden lofts and can be lifted with equipment provided in the room.
---
Suite Floor Plans By Type
designates a premium suite type.