Reid Hall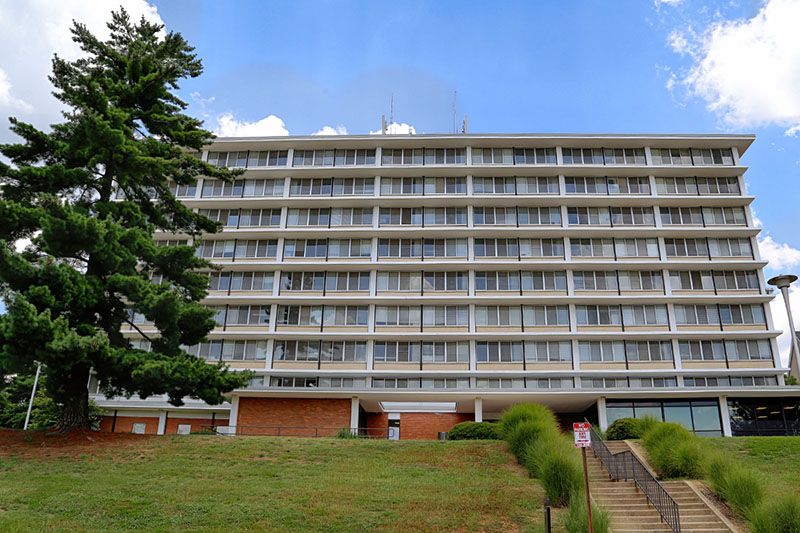 About Reid Hall
Dedicated in 1967, the building was named for Martha McKenzie Reid who served as the Dean of Women for 17 years. Reid Hall is a primarily freshmen, women's facility. It is air-conditioned with carpeted hallways. Each bedroom has built-in closets and dressers, loftable beds and movable desks with attached hutches for books, ethernet access, cable and a networked smoke detector.
Reid Hall is located on the north side of campus on Cleveland Street, next door to Maple Hill West. While it is on the north edge of campus, it is still only a short walk or bike ride to the academic buildings. Reid Hall also has a Razorback Transit stop, which is helpful on cold or rainy days.
Reid Hall is open only to female University of Arkansas students.
Effective Sunday, Jan. 3, University Housing will limit guests/visitors in the residence halls.
Each resident may have only one guest in the residence hall at a time. Overnight guests will not be permitted, and no guests should be in rooms between the hours of 2-8 a.m.
The visitation and guest policies will be revisited by January 29, 2021 to determine any adjustments needed.
Front Desk
Physical Address
1365 W. Cleveland St.
Fayetteville, AR 72701-1755
Mailing Addresses
1365 W. Cleveland St.
Fayetteville, AR.
72701-1755
Standard Features
Kitchen with cooking equipment (available from the front desk)
Fire alarm and sprinkler system
Common spaces available for studying or socializing
Hall Features
Capacity of 459 students
Female-only building
Elevator
Exercise Equipment
Movable Furniture
Typical Room Layout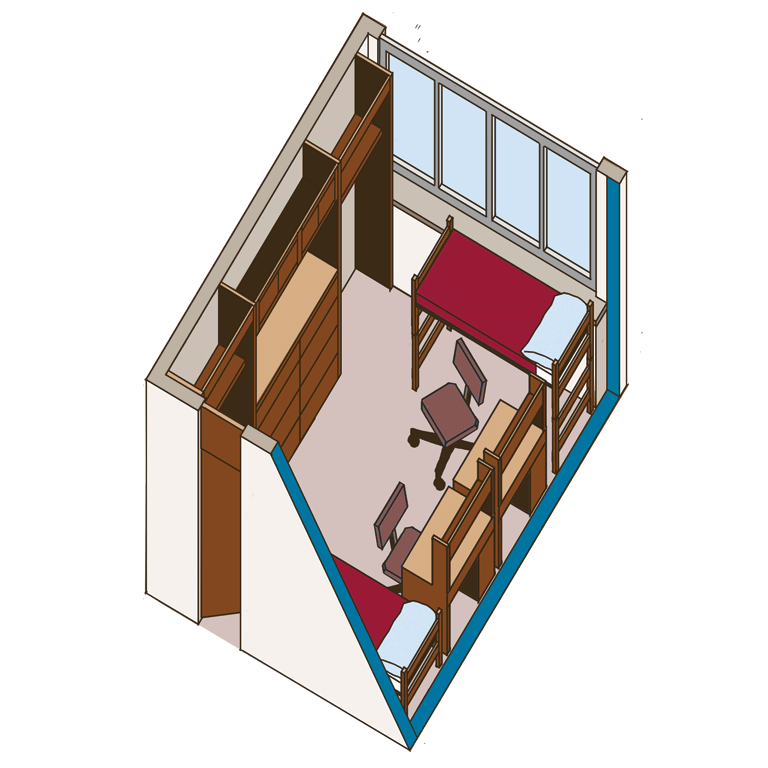 Typical Double Room Dimensions*
Twin Beds

Regular twin: 75" x 36″ x 25″

2 Desks (42" x 22" x 30")
2 Desk chairs (23" x 21" x 33")
2 Bookshelves (40.25" x 13.75" x 24")
2 Closets (48" x 25" x 96")
Double dresser (70" x 24" x 40")
Lighted Mirror (60" W x 27" H)
2 Bulletin Boards (43" W x 32" H)
Window with blinds (9'6" W x 57" H)
Ledge (9'9" x 12" x 37")
* Unless noted, measurements are L x W x H
Bedrooms are approximately 13'6" deep and 9'9" wide
Each bedroom has ethernet access, cable and a networked smoke detector