Adohi Hall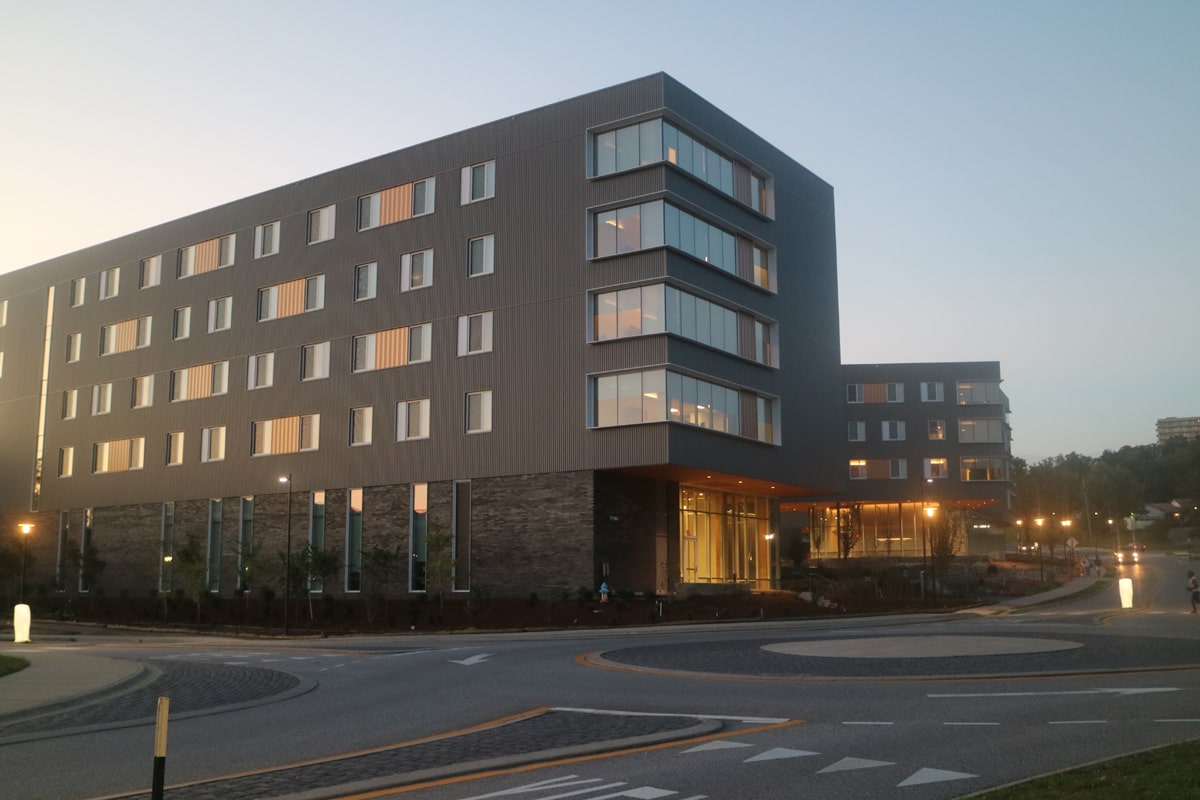 ---
Adohi Hall
Adohi Hall is 708-bed co-ed hall open to all students in the south campus neighborhood.
Adohi is a Cherokee word for "woods."
This name honors the Cherokee who passed nearby the site following the Trail of Tears between 1837 and 1839. It was chosen in consultation with citizens of the Cherokee Nation, including members of the Cherokee speaker's bureau.
A Trail of Tears marker is located approximately 1,500 feet south of the new residence hall.
It also references the sustainably sourced wood used in the cross-laminated timber construction.
Hall visiting hours are 8 a.m. to 2 a.m., Sunday through Thursday, and 24 hours a day during Friday and Saturday.
This hall is open to students even during winter and spring breaks.
Front Desk
1-479-718-3300
Physical Location
187 South Stadium Drive
Fayetteville, AR 72701
Mailing Address
187 South Stadium Drive
Fayetteville, AR.
72701
Social Media
Standard Features
Kitchen with cooking equipment (available from the front desk)
Fire alarm and sprinkler system
Common spaces available for studying or socializing
Hall Features
Cabin connected to both wings has ping pong, billiards, video gaming area, movie and sports watching area, kitchen, lounge with gas fireplace all with a variety of tables, stools and chairs
Kitchens located on 3rd and 5th floors (Adohi A); 3rd, 4th and 6th floors (Adohi B); and a double kitchen in the Cabin (Adohi C)
Lounges are furnished
Half basketball court
General Room Information
No furniture may be removed from the room
Except for the closets, all furniture in student rooms is movable
All student rooms have thermostats located on the wall
All student rooms are a single gender
All student room paint color off white color (specifically Benjamin Moore OC-20 pale oak)
All student rooms have luxury vinyl flooring
All bathroom floors have epoxy flooring
Decorating should be done using white putty used for posters, etc. Adhesive-backed decorations, nails, screws, colored putty, tape, hooks may not be used to decorate.
Pod Room Layouts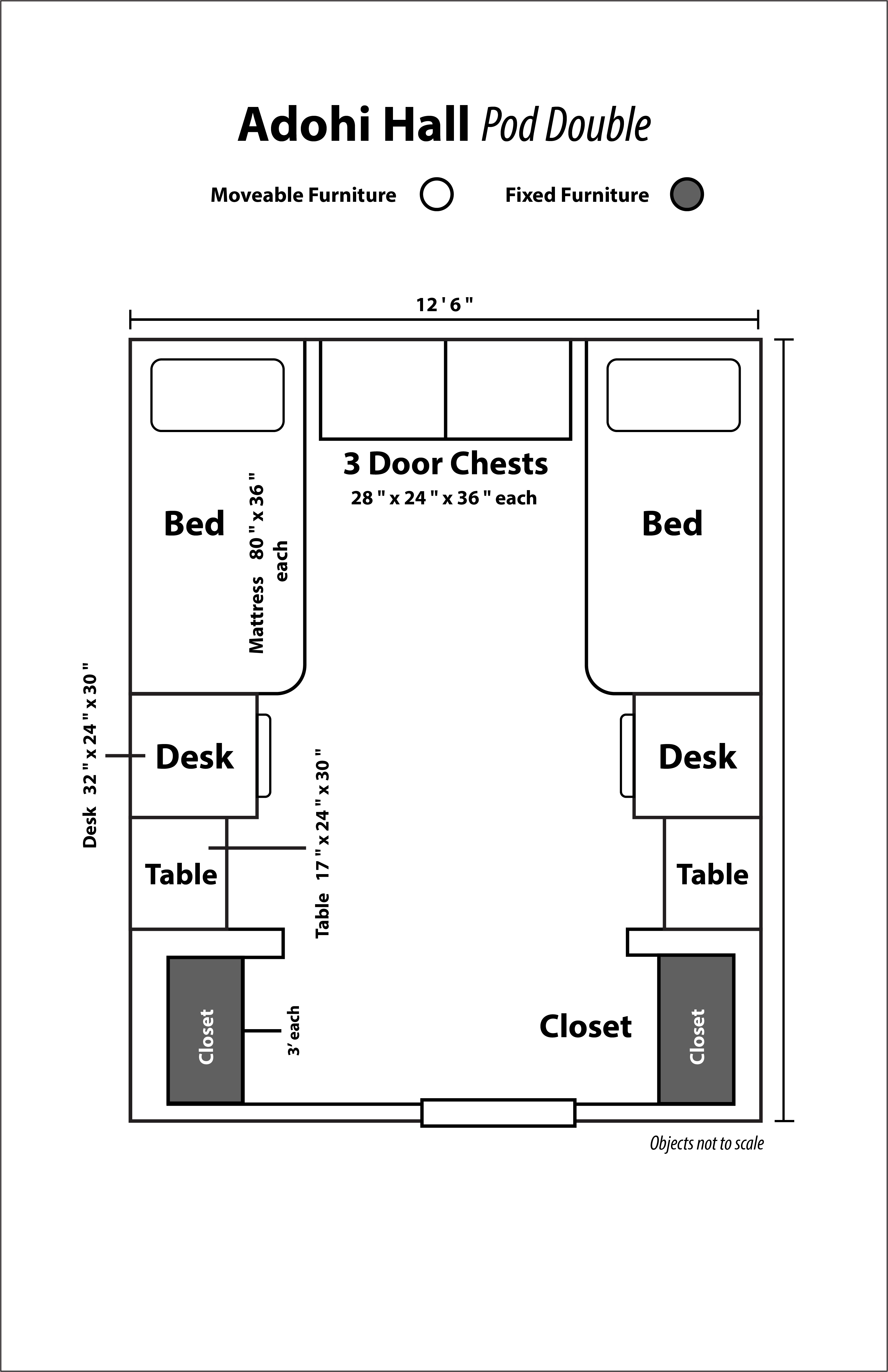 Download this room layout
Pod Floor Plans
In the floor plans above, you can see a slight difference in the bedroom depth (just a little over 1'), but they are essentially the same size between the two types of rooms. The closets are the same size, but they are farther apart in the PODs allowing for the small cubby to be added by the door (2×2 next to the door with two upper shelves and a plug for a small refrigerator – provided by the student.
Bathrooms on Floors With Pod Rooms
Community bathrooms are gender specific. Each bathroom has three sinks, two toilets, two showers. Privacy is provided by each toilet stall and shower. Changing areas are individual and have a door within the larger restroom. Sinks are together in one continuous countertop within a larger restroom.
---
Semi-suite Layouts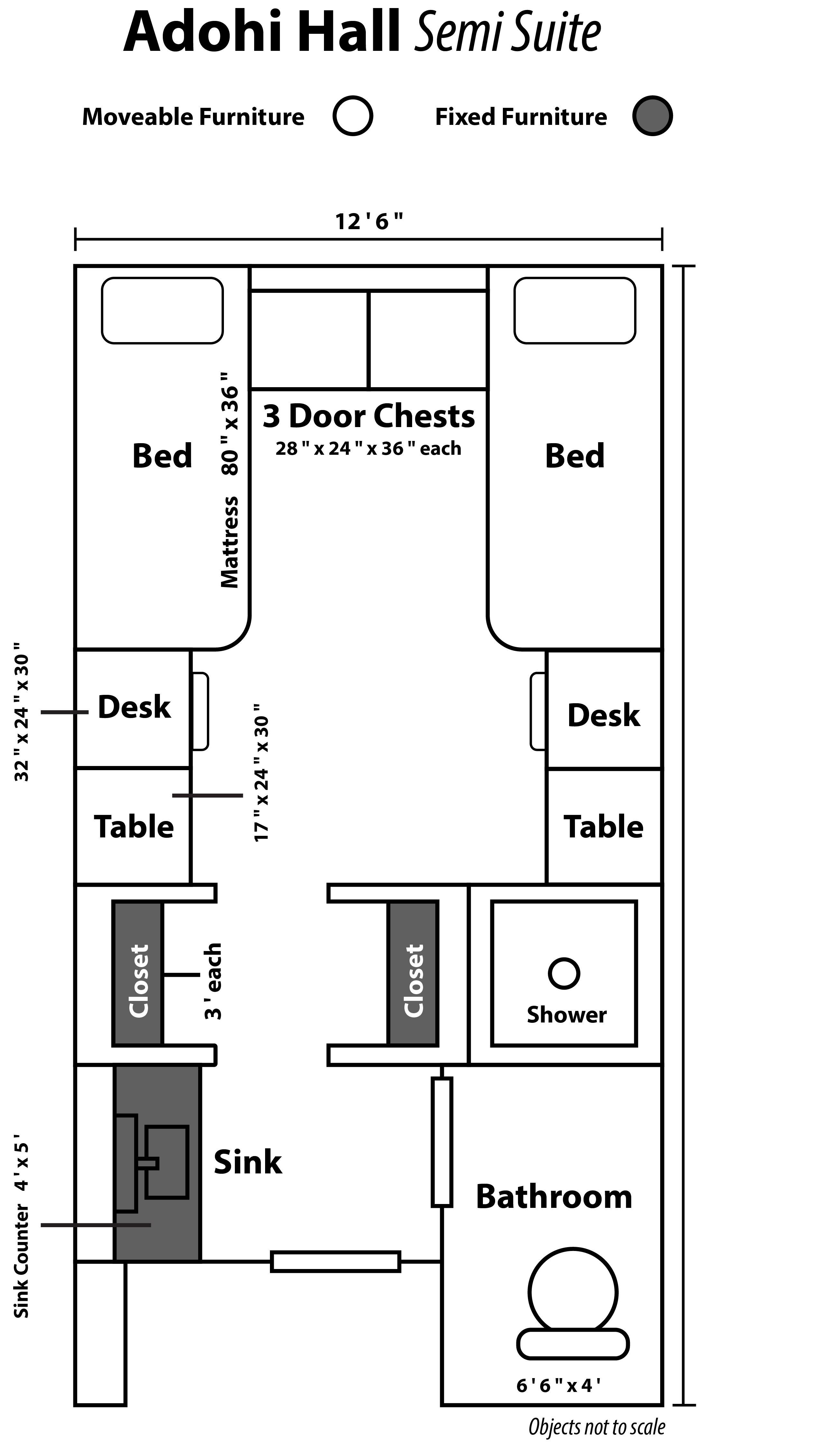 Download this room layout
Semi-suite Room Measurements
Semi-suite room dimensions and ceiling height 11'6 x 12'6 not including bathroom, sink, and closet. Ceilings are 8' in entry/restrooms opening to 14' high in the hallway area.
Suite Bathroom
The countertop is 4' wide w/ 5' of standing space (typical countertop depth) with one sink and one open shelving below
One mirror
Toilet area 6'-6" x 4'
Two towel racks
Common Spaces
Resident Rooms
Pods
Pods rooms are traditional two-bed rooms located close to a bathroom and study area.
---
Semi-suites
Semi-suites are two-bed rooms with a sink and private bathroom.