Resident Assistant
Position Overview
LEADING PEERS. BUILDING COMMUNITY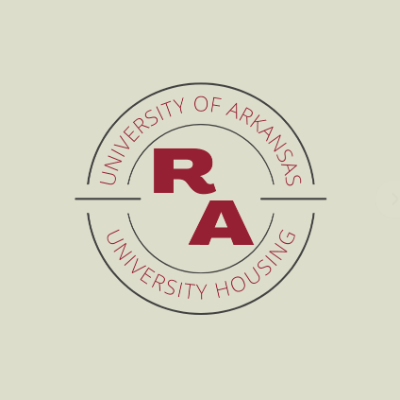 A resident assistant, or RA, is an upper-level student who serves students living in the residence halls.
The RA role is one of a community facilitator and role model, providing leadership and assisting residents in developing a positive community environment throughout the building.
A positive learning environment is one where active learning takes place through RA-facilitated opportunities.
The RA role is part of the overall educational activity and programming provided by University Housing and helps educate the RAs on a variety of issues relevant to student housing and student affairs, among other areas.
Positions Available to New RAs
Community RA Position — Responsible for developing a meaningful experience and promoting wellbeing among the residents on their floor in their residence hall.
Neighborhood RA Positions — Responsible for the specialized programming and initiatives for one or more residence hall communities in their neighborhood. Specialized neighborhood RA positions include:
Diversity Equity and Inclusion RA
Leadership RA
Marketing RA
Event Management RA
Wellness RA
Academic Outreach RA
Mandatory Interest Sessions
Interested in applying to be an RA for the 2023-2024 academic year?
The first step is to attend a mandatory interest session. To receive access to the application, you must attend an interest session.
Please plan to attend one of the following sessions:
Wednesday, Oct.19 at noon (via Zoom)
Wednesday, Oct. 19 at 7:30 p.m. (Hillside 202)
Tuesday, Oct. 25 at noon (via Zoom)
Tuesday, Oct. 25 at 7:30 p.m. (Hillside 202)
Tuesday, Nov. 1 at noon (via Zoom)
Tuesday, Nov 1 at 7:30 p.m. (Hillside 202)
Wednesday, Nov 9 at noon (via Zoom)
Wednesday, Nov 9 at 7:30 p.m. (Hillside 202)
Tuesday, Nov 29 at 12:30 p.m. (Union UP Theater by the Multicultural Center - Room 423)
Friday, Dec 2 at 12:30 p.m. (Union UP Theater by the Multicultural Center - Room 423)
Tuesday, Dec 20 at noon (via Zoom)
The session will cover the requirements and expectations of the position, information on how to apply for the position, as well as information on the interview process.
You will not be able to get access to the application without attending the interest session.
Please note that the afternoon sessions will be hosted virtually on Zoom. Make sure you have a UARK Zoom account set up or you have merged your existing Zoom account with your UARK email. You can do this by going to uark.zoom.us.
The evening sessions will be hosted in person in Hillside Auditorium.
Please make sure to RSVP for an interest session. Visit the University Housing Student Employment event calendar on HogSync.
Length of Employment
Resident Assistants are expected to arrive on campus early for August 2023 training as communicated by the University Housing. Employment responsibilities conclude one week following the May 2024 residence hall closing. Exact start and end date will be determined.
Current Benefits (2022-2023)
Scholarship to cover full cost of room
Meal plan (15+)
Community RA Stipend of $800/Academic Year
Neighborhood RA Stipend of $1100/Academic Year
10 percent Discount on Books
Priority Registration
Priority consideration for Resident Reserved Parking

(note: University Housing does NOT pay for parking)
Current Scholarship Agreement (2022-2023)
Our scholarship agreement is a document that outlines the RA job description and duties, employment requirements, expectations, ethics, compensation, and important dates for the job.
View the scholarship agreement for the current academic year.
Contact Us
Follow @UARKRA on Instagram.
If you have any questions, please email rahire@uark.edu.