Resident Assistant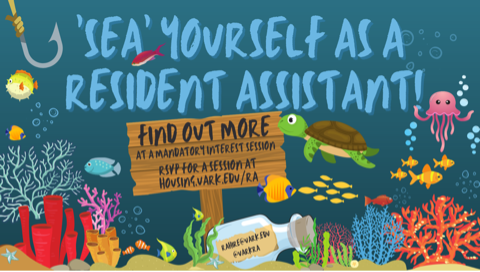 A resident assistant, or RA, is an upper-level student who serves students living in the residence halls.
The RA role is one of a community facilitator and role model, providing leadership and assisting residents in developing a positive community environment throughout the building.
The RA program is part of the overall educational activity and programming provided by University Housing and helps educate the RAs on a variety of issues relevant to student housing and student affairs among other areas.
A positive learning environment is one where active learning takes place through RA facilitated opportunities for faculty and resident interaction, seeking resident involvement and creating a sense of community among residents.
---
Mandatory Interest Sessions
Interested in applying to be an RA for the 2022-2023 academic year?
Please plan on attending one of these mandatory interest sessions.
Tuesday, Oct. 12 at noon (via Zoom)
Tuesday, Oct. 12 at 9 p.m. (Kimpel Hall, Room 102)
Wednesday, Oct. 27 at noon (via Zoom)
Wednesday, Oct. 27 at 9 p.m. (Kimpel Hall, Room 102)
The session will cover requirements and expectations of the position, information on how to apply for the position, as well as information on the interview process.
You will not be able to get access to the application without attending the interest session.
Please note that the afternoon sessions will be hosted virtually on Zoom. Please make sure you have a UARK Zoom account set up or you have merged your existing Zoom account with your UARK email. You can do this by going to uark.zoom.us.
The evening sessions will be hosted in person in Kimpel Hall, Room 102.
Please make sure to RSVP for an information session. Visit the University Housing event calendar on Hogsync.
Contact Us
If you have any questions, please email rahire@uark.edu.